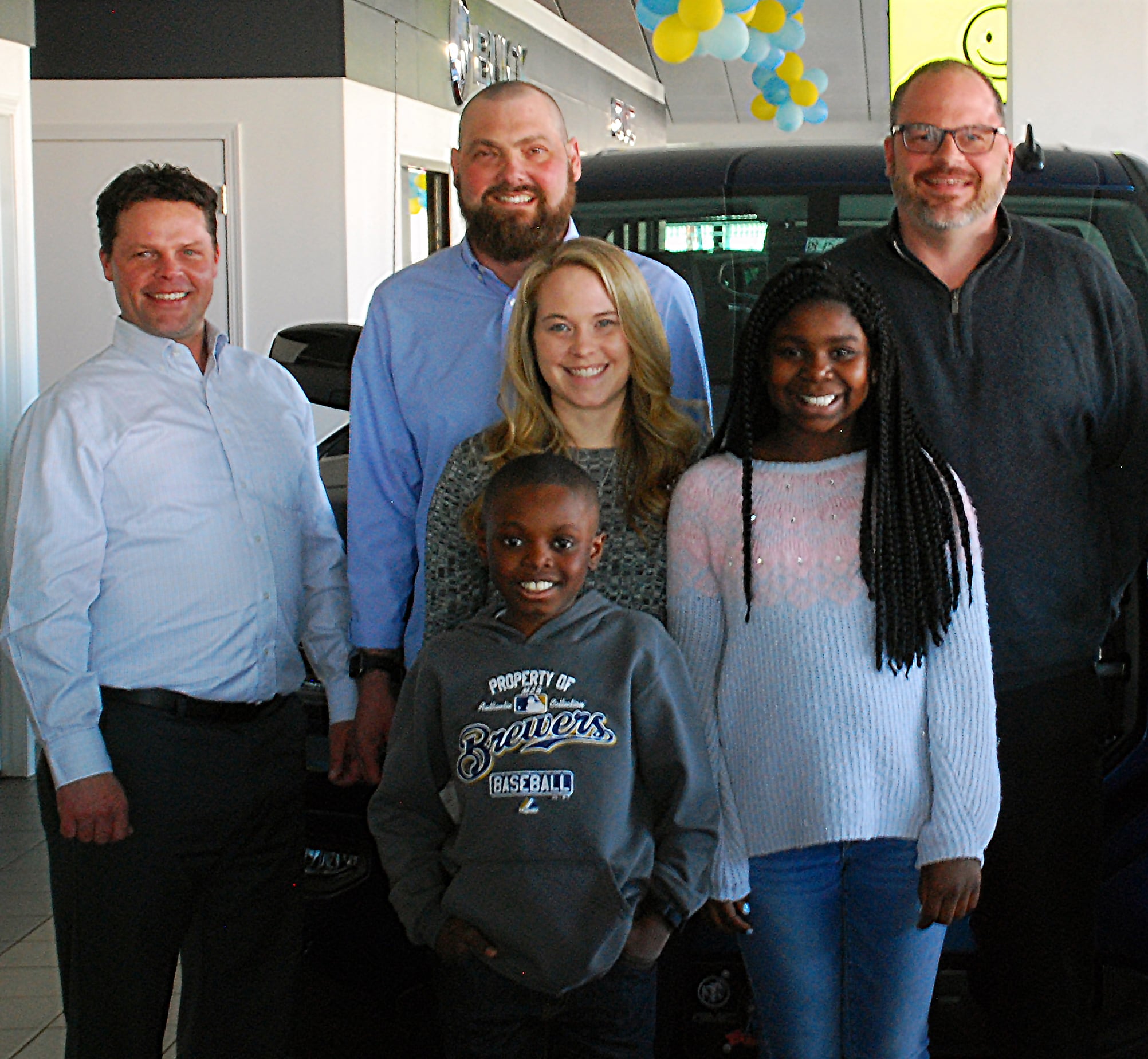 A little help goes a long way and it has always been important to the staff at Fred Mueller Automotive to make a positive impact in others' lives. Families all over are affected by cystic fibrosis and Joe Mueller, the general manager at Fred Mueller Automotive, believes it's important to raise more awareness in the Wausau area. Throughout the month of April, Fred Mueller Automotive will be raising funds for this great cause. The cystic fibrosis walk will be held at the Fred Mueller GMC Building located at 448 Grand Avenue in Schofield, Wisconsin on May 12th. It will be the very first walk for cystic fibrosis in the Wausau area and Jed's first 5K post-transplant. Registration for the walk will begin at 8 a.m. and the walk will take place from 9 a.m. until noon. Participants will be able to enjoy a delicious lunch after the walk at noon as well as a presentation by Joe from noon until 1 p.m. along with witnessing him present the entire donation to the Cystic Fibrosis Foundation. Jedidiah Haas and Eric Schareneroch will accept everything that has been raised on behalf of the foundation. Sheree Nagel, Jed's sister-in-law who is organizing the event, and Joe hope to make this walk an annual event.

"We're definitely always looking for different ways that we can help out the community," confirmed Joe. "This is really going to be a great opportunity to help out an organization that I think sometimes you just don't hear that much about at least right in our area here."

Jed, a pastor at Family Church in Stevens Point, was diagnosed with cystic fibrosis at the age of ten years old. He started getting sick more often around 8 years old but it wasn't until he went to a specialist that he officially diagnosed.

They looked at Jed's fingernails which are clubbed or curved and is a result of oxygen not getting to the end of the fingernails. Additionally, a sweat test was performed because people with cystic fibrosis sweat three times as much salt as a person without cystic fibrosis.

"Since there's a lack of the right amount of salt saline going through the cell wall, the cell doesn't reproduce properly," Jed explained. "Any where there are glands that need to have movement with cilia or mucus glands, it doesn't move the mucus through to get rid of the infection. The infection gets caught in there and sticks which causes a low immune system which causes a cold that could turn into phenomena pretty quickly. That's slowly how people with cystic fibrosis have the problem of superbugs getting caught in there and you can't get rid of them."

He continued, "Then that's what produces more mucus in the lungs and it hardens like a scab and slowly takes over your bronchial tubes. That's how you lose lung function with this genetic disease."
There was a period of time when Jed and his family moved from Wisconsin to Arizona in hopes that the dry as well as warm weather there would help with Jed's condition.

Kendra Haas, Jed's wife of fourteen years, explained, "It didn't heal anything but it helped his quality of life in that time. But then we started getting to the point where his lung function hit below what they call a 30% FEV1 (forced expiratory volume in one second) which is when you start the process of looking into whether you're a candidate for transplant. There's a lot of testing that goes into whether you will be a good candidate."

After looking into different facilities, they determined it would be best to move their family which consists of two adopted children named CJ and Kylie back to Wisconsin again.

When Jed was approved to be on the transplant list, he was down to only 24% lung function. The first two transplant calls he received ended up falling through until thankfully, the third call was successful. By this time, he was between 11% and 14% lung function. He had been living full time on oxygen for support.

The date of his double lung transplant was September 2, 2017 and he walked again the next day. Although he didn't sleep or eat for seven days after the surgery, his lung function was at the highest level the surgeon expected it to be for just coming out of surgery. Currently, he is at 110% FEV1. Jed was hospitalized for nineteen days and then his family stayed with him in a hotel near the hospital for another two weeks.

"It's a gift, truly a miracle," elaborated Jed. "You're just thankful for the team, you're thankful for the donor family and you're thankful for your donor. For the gift that they passed on, the legacy and you're thankful that God can do this work. I like to say I faced death and Ilooked death in the face. I was ready, I had my letters written, my video made, my funeral planned and I was ready to see Jesus. Now I'm in bonus round."

Jed urges others to be patient and understanding with the new faces they encounter.

"It's an invisible disease. You look great to the public but you're sick inside. It limits your ability to do things when others think you should be able to do that. So, you're always having to explain if you feel like it, you don't have to. But for me, I found it's really helpful to just teach others," stated Jed. "We can't make assumptions. It's always better to give the benefit of the doubt and ask questions."

This journey has also changed him in many ways physically and psychologically.

"I think anytime people go through hard times or suffering or trial it makes you stronger. It makes you view life through a better frame of mind. Appreciate the gratitude. I guess it can either make you bitter or better. If you choose the path of better, it can really make you grow and mature just all around in life," encouraged Jed. "You change your vocabulary from 'have to' to 'get to.' It changes your whole outlook on life, it changes your perspective."

Kendra chimed in, "You can look at it as I'm dying from cystic fibrosis or I'm living with cystic fibrosis."